Popular social websites like Facebook, Instagram, Twitter and similar sites form the basis of Social Media Marketing. However if you don't know what you are doing you can spend a lot of time on these websites/apps and never sell a single product. There are tips and tricks to actually getting sales via these websites and most people unfortunately don't know how to do this.
There are several different ways to market a website or product via social media outlets.
Social Media Buttons, such as the ones on this site, link directly to Facebook, Twitter and other social media / bookmarking websites. The buttons come in a range of sizes and are useful for letting visitors do your marketing for you via Word of Mouth.

Social Media works best for small companies looking for additional exposure, hoping that their products or services will become a hit with the marketplace. It is much easier to do this with a product "that sells itself". A product ranked low in "user desirability" will be a complete waste of time and effort to advertise via social media.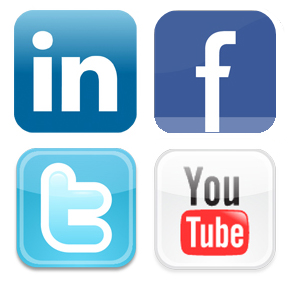 Companies should also be encouraged to look beyond just Facebook and Twitter. YouTube and LinkedIn are also important Social Media tools and depending on the market you are looking to capture other sites can be very useful as well. ie. Instagram is still an extremely useful website for marketing music, whereas Twitter is very good for marketing books.
Social Media Marketing really just requires setup time to make the Twitter / Facebook / YouTube / Instagram / Etc pages look organized and presentable, add the logos/links to your website so they're all linking back and forth and after that its just a matter of posting regular updates to all the sites your company is involved with.
A company that doesn't have regular news to report should be discouraged from going the Social Media route because it won't be as useful to them. The same can be said of setting up any kind of blog for your website. If you don't have anything to blog about, what is the point of creating these extra websites which are essentially dead weight? If they're not an efficient use of your time you should not be doing them.
Thus we only recommend that websites which actually have a social or news aspect go the route of Social Media. ie. A website about celebrity gossip which sells T-shirts celebrating/mocking celebrities would be ideal for the Social Media route because they could post gossip on Twitter and Facebook on a daily basis. Even a website about an used car dealership, with a constant array of used cars to sell, could be posting constant updates of every used car (including the car's year, mileage, condition, price, etc).
So if your website is the kind that would have constant news, updates, gossip, new items to sell, etc. then yes, Social Media Marketing would be very useful to you.
Then it becomes the question of who is doing the constant posting of new material. Ideally this should be done by you, your staff or someone else in your organization. Some companies prefer to hire someone else to create "filler content" based on industry news, but the quality of such filler content will always be less than the real news coming from your company. Deciding to go the Social Media route therefore requires a time commitment on the part of the user, and this implies you will also need to be a little bit web savvy and learn how to use the functions of Twitter and Facebook so you know how to post text, links, images and videos.
If you are very web savvy you wouldn't even need us. You could setup your Facebook and Twitter accounts by yourself, make them look professional and start posting.
If you decide you want to add Social Media Marketing to your website please feel free to email designSEO to setup an in-person consultation. We can help you get it setup and running beautifully. We can even teach you how to be more web savvy so you won't require our help in the future for most tasks and so you're not wasting your time (or money) on advertising campaigns that don't work.